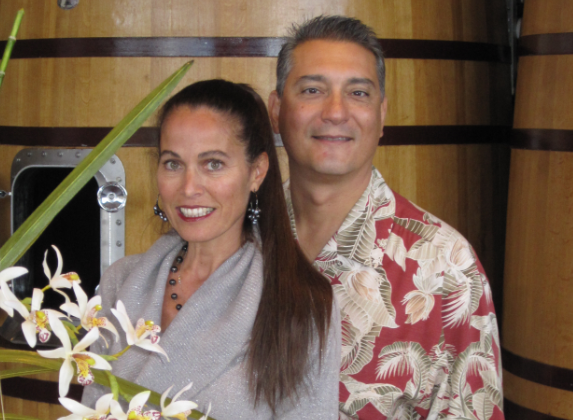 As a family, we believe in living each and every day to the fullest. Our familial cultural traditions, steeped in our European and Mediterranean heritage, revolve around the hearty family meal, served with copious small batch wine expertly paired with each course. Jace Enterprises is the culmination of our Portuguese, Italian, Greek and Czechoslovakian pedigree.
We travel through our traditional homelands in search of small batch, local wine producers who make world-class product. For almost all our producers, we are the sole source in the United States. We only source wines that are made in a limited production, and many of our producers, although stars in their hometown, are virtually unknown to us here in America. Certain wines as noted are made exclusively for our own label, and are not otherwise produced at the winery for anyone else.
If requested, we will include with your order some of our favorite family recipes that we believe bring out the best in our wines.
In a hustling, bustling and busy world, we find solace in a retreat to our family roots. We hope you will join us on our journey. We trust you will not be disappointed.
Chris and Bridget Celentino, Proprietors
---
Our opening letter on the home page:
January 2018
Well, we did it. We finally bit the bullet and together decided to expand and focus on our little wine import business this year, 2018. Maybe because we anticipate a little more free time, now that our brutal time commitment to establishing and nurturing OTA is coming to a close? Maybe because it is something we really enjoy together? Maybe because it's the only thing Chris has a creative inkling toward? Maybe because it offers us a chance to share something special with our closest friends? Probably all of those things. And, besides, who gets the chance to name a wine after their children? And secures the kids' input on the label design? That's been a pretty cool part of it all.
Welcome to our new place here at www.jacewines.com. Yep, we named the company after our dog, JACE. Whose name is an acronym from the names of our children? Original, huh?
So, our plan is to take trips together and search out unique wines from crazy good winemakers who otherwise have virtually NO PRESENCE outside of their hometown, or at least hometown region. For those who have traveled to Europe, especially Italy or Portugal, you always come home telling your friends that you tried the "local" wine, and found it excellent, and as good as any you've ever tried. And you probably thought that it was the countryside, the ambiance, the fact that you were on vacation that made it sooooo good. It was likely all of that. And, as we have found, it was probably because the wine was made with love and commitment, and was, well, really good. There's a lot of really good wine out there, and we get some of the good, and a lot of the mediocre here in the US. Our goal is to share with our friends the really good wines we find, a few of which aren't going to be household brands, or even made from common grape varietals.
Our first significant imports are coming from Collio, near Venezia; and Tramin, in the Alto Adige. Still relatively unknown appellations to American tastes, these regions are gaining popularity with critics and collectors the world over. Recently, Collio was designated as "the most important "new" wine region in all of Europe. The article is available on our website, or will be soon.
We are honored to now be the importers of wines from Alessandro Pascolo, having been blessed to take over this opportunity from our friends at Jessa Wines here in San Diego. Alessandro has collaborated over the last few years with some of Italy's and France's famous heavy weight winemakers, and his technique has progressed to "world-class" status, even though he is little known outside of his commune.
Alessandro makes a dry sparkling Italian wine, mostly from Ribolla Gialla grapes, that is as good as many much more expensive French champagnes, and tastes much better than most California sparkling wines. In our view, it is the perfect, zesty romantic wine for your Valentine's celebration. Excellent by itself, it has great acidity, and would be awesome with oysters on the half-shell, crab claws, and caviar, all the things you want on Valentine's Day…we're just saying.
Alessandro is making a proprietary "first ever" release for our own label of a Cabernet Sauvignon-Merlot blend, similar to the Bordeaux blend in Ms. Bridget's Cuvèe. Released under the brand name Pertinent, this is a smooth, deep colored winner; expressions of coffee and tobacco, solid dark fruits, and toasty tannins make this a great wine for hearty meat dishes. It will be available in June 2018.
We have some other interesting offerings on their way as well.
Take Chris' favorite red wine grape, Lagrein. What, you say? Yep, Lagrein. Pronounced La – grrr ine. Important to growl when saying it, as the wine is a powerful testament to what heavily tannic grapes can make when winemakers embrace modern canopy management and cluster control. Over the last god-knows-how-long, Lagrein has been a 50+ year aging wine that takes awhile to soften – our stable of winemakers are bringing more solid fruit to the wines by taming their tannic production with cluster control. The generally high acidity makes it an excellent food wine, so good, you might find yourself drifting away from generic fruit bomb cabernets when grilling a steak, serving game (such as wild boar pasta), or braising any meat, like lamb, oxtails or osso bucco. We feature Lagrein from our friend, Nathalie Bellutti, who is California-trained, but recently moved back to Italy to revitalize her father's wine estate, Ansitz Rynnhof, as the winemaker. Finesse is what Nathalie is about, and you sense that constant right jab in her Lagrein. We also will be featuring Lagrein from Stefan Vaja of Glassier, who is a good friend of Nathalie's. His Lagrein is more of a left hook, or sucker punch, filling the mouth with velvety smoothness and finishing with a powerful, lasting finish. Nathalie is also kind enough to make a proprietary blend for us, named Relevant, with a label designed by Elio, that blends Nathalie's Lagrein with a small percentage of fruity estate-grown Schiava, known in the Alto Adige as Vernatch. Vernatch is as important to the Alto Adige as Nouveau Beaujolais is to the French. It is bright, fresh and fruity, and is low in acid so it drinks fabulously. Made in small quantities, very little of this wine ever gets out of the Alto Adige. The blend is delicious, as it balances the heft of the Lagrein with just enough fresh red fruit to increase the wine/food compatibility choices: this wine will be good with pasta, grilled chicken and pork, as well as bigger grilled steaks.
Prefer white wines, but tired of flabby, buttery popcorn flavored Chardonnays? Yet, finding Sauvignon Blanc just a little too acidic and minerally? Say no more, and try our Pinot Bianco. That's the English translation for Weissburgunder. Which sounds like a burger with swiss, but is a white wine of great body, crisp apple and citrus aromas, and silky smooth mouthfeel. We love this wine with citrus buerre blanc and lemon caper sauces. Alessandro's Pinot Bianco is delicate, with a salty, minerality; Nathalie's Pinot Bianco is focused pippin apples and creamy deliciousness; Stefan's has a bit more toastiness in the mouthfeel. Spend a little more time with these wines, and you will be drinking less and less Chardonnay, and won't miss it, or its heftier price. Our proprietary blend, coming in June 2018 and named "Connected" for our daughter Christina. Because of Italian domain of origin regulations, "Connected" will be prepared for us by Stefan Vaja, and our Pinot Bianco will contain a significant percentage of Sauvignon Blanc – their first wine collaboration, and made exclusively for us. We think it pairs perfectly with seared scallop with citrus buerre blanc, and will include a make it at home recipe if you ask. Keep your eyes peeled to our site, as we plan to have Nathalie come to San Diego for a series of wine tastings/pairings later in 2018.
We are very proud of our endeavor, and even more proud of the friendships we have made with these wonderful people, who happen to be amazing winemakers. We are pleased to be able to share these wines, and our stories and recipes, with you. Subscribe below and we'll keep you up to date that way, and you don't need to do anything unless you want to. Looking forward to sharing ….
Best,
Chris and Bridget